Pike Street Press
My first design job out of college was working for Pike Street Press in Kirkland, Washington. I ran the store and worked as the Social Media Manager, primarily photographing our products and publishing them on the web. I designed advertisements for our email newsletters, and created graphics for the website. I worked with Adobe Photoshop and Illustrator, as well as Mailchimp and Wordpress.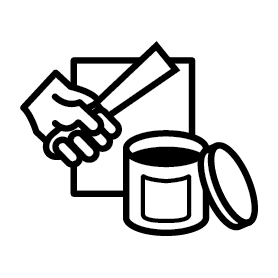 One of the new features we were rolling out the website was the ability to fill out a template based order form for wedding invitations. I created these icons for the webpage with an explanation of each step of the process.
The first stage is picking out a template! We have over 20 templates to choose from and we're adding more all the time. You're sure to have a beautiful invitation with the unique touch of a letterpress print, customized for you.
In the second stage, fill out your details on the order form, and email it to us. We will email you back a proof when your design is ready so you can check it over before we send it to the press.
Next, we work our letterpress magic and create acrylic plates that will be used to print your invitations. Then, we send it off through our vintage Heidleberg windmill press.
Lastly, we pack up the invitations and mail them to you!




These banner advertisements were created for the Pike Street Press website during the 2017 Holiday season. The typefaces used are the brand's signature Palm Canyon Drive and DIN. The props were arranged in the lightbox with a few prototype business cards from our templates, and some of our single holiday cards. Shot with a Canon EOS 7D Mark II.
Above are a series of holiday cards that each represent objects from my childhood holidays. Baking was a huge tradition in our family, and baking the gingerbread dough was an important ritual. For Christmas there were always new pajamas, along with walnuts, oranges, and lottery tickets. And for New Years Eve, the adults always had champagne, and we all opened our Christmas crackers.
Below are a series of illustrations that were intended for the letterpress. These were concepts I enjoyed developing, and I explored a different illustration style with each image. All of them were designed to exemplify the beauty and culture of the Seattle area.